The Patat Spot, a new European Snack Bar located at 41-B George Street in downtown Charleston, is now officially my new home away from home. Operated by the husband and wife team of Jeff and Phillis Kalisky Mair, the Patat Spot features a favorite snack food from my home country of Holland: french fries! "Hey, wait a minute! Aren't french fries…err…French" you ask? Well, no, they aren't. And, I know what you're thinking: "Well, I can get french fries just about everywhere!" Yes. Yes, you can. But, these Patat Spot fries aren't just any old french fries. They are, in fact, patat friet, or just friet—fresh, hand-cut Dutch Bintjes potatoes that are twice-fried for crunchy thick goodness. They are delicious, and, they are a little slice of Holland, right here in downtown Charleston.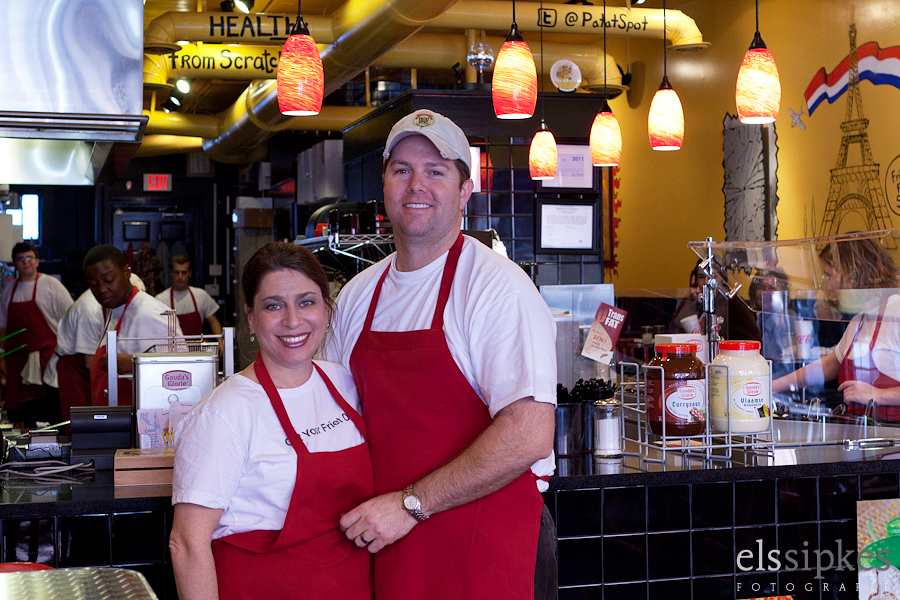 My Dutch girlfriend and I decided to check things out last night at the Patat Spot's unofficial opening, where we found an eager crowd bustling with excitement over the menu of friet and accompanying sauces, falafels, "The Garden Spot" salad bar with falafel toppings, and, another Dutch treat, oliebollen. We both ordered patat oorlog, which is friet topped with friet sauce, saté sauce and chopped onions. For dessert we had oliebollen—raisin-filled, sugar-dusted balls of doughy goodness that in Holland are traditionally served in the weeks surrounding New Year's Eve or at street fairs. Lucky for us, the Patat Spot serves them daily.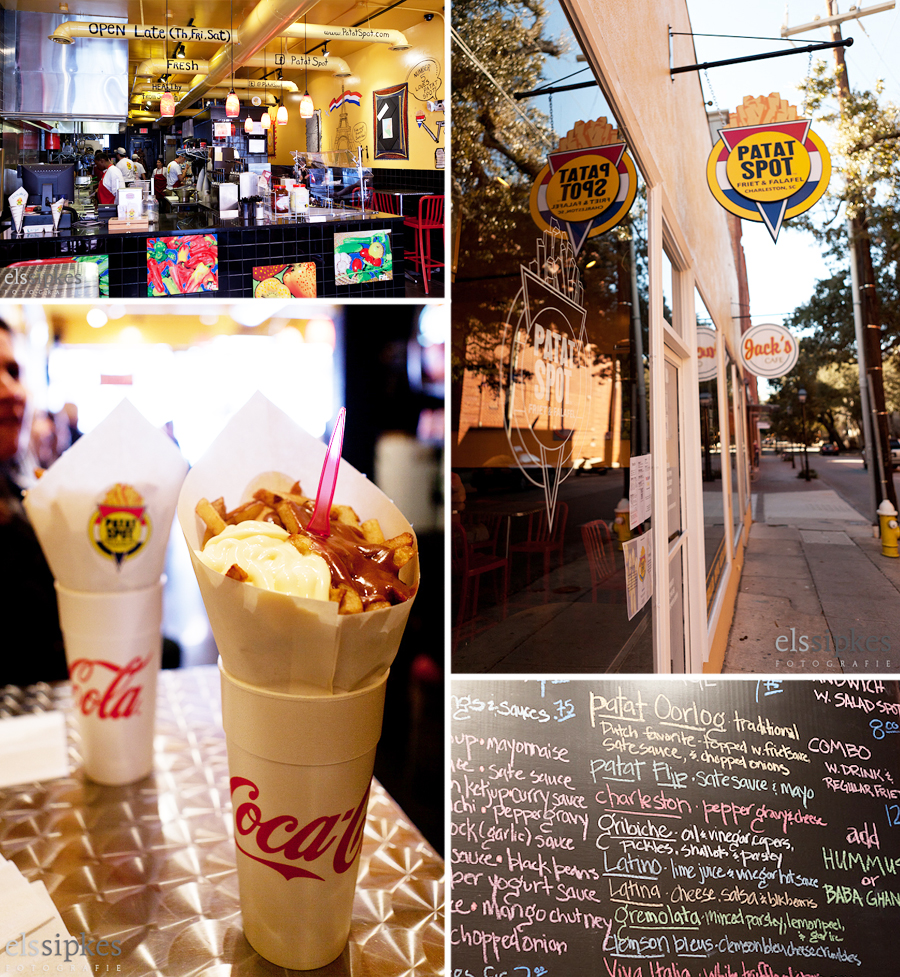 Everything was so delicious, and the atmosphere so gezellig (a Dutch word that defies literal translation, but is best described as cozy) that we returned Saturday morning (after their official 11am opening) for another round, this time with my sister and niece in tow.
We Dutchies all went for the friet with sauces, while my American-born niece ordered the falafel combo, which comes with a falafel (whole grain pita bread with Mediterranean chickpea cakes), a trip to the garden spot to dress up the falafel with fresh greens, hummus, tabouli, and various sauces (don't miss the sambal sauce if you're a fan of spicy!), and also includes a side of friet, and a drink.
I wanted to get a photo of my niece's falafel, but by the time I pulled out my camera she had already devoured over half; needless to say, she liked it quite a bit. Our double portions of friet were delivered in the traditional puntzak, a funneled paper sack that holds enough friet to satisfy a big appetite. If you're only looking for a snack to tide you over between meals, the regular size is just right. Top your friet with a variety of imported Dutch Gouda's Glorie sauces, like curry ketchup, saté sauce, Dutch friet sauce (a Dutch mayonnaise with less fat than traditional mayo), or garlic sauce. You can also try American favorites like ketchup, mayonnaise, pepper gravy, cheese sauce, and salsa, or, if you're feeling especially adventurous, order one of the many specialty friets like the gribiche, which includes oil and vinegar capers, pickels, shallots and parsley. The combinations are endless.
Next time you're downtown and hankering for something different, head over to the Patat Spot to try their delicious friet, falafels and oliebollen. It's a little escape to good food, friendly staff, and Dutch gezelligheid! Eet smakelijk!
The Patat Spot, located at 41B George Street, is open Sunday through Wednesday from 11am-10pm, and Thursday through Saturday from 11am-3am. You can reach them by phone at 843-723-7438 or visit their website at www.patatspot.com.